Prospectus for President Scholarship of International Students in Lanzhou University
Lanzhou University, founded in 1909, is one of the earliest higher education institutions built in modern China and is a comprehensive university directly under the Ministry of Education of China. It is also one of the key universities of the national "985 Project" and "211 Project", and is one of the national "Double First-Class" construction universities.
Lanzhou University covering all 12 disciplines, which include a large number of advantageous disciplines in chemistry, physics, material science, earth science, plant zoology, mathematics, engineering, biology and biochemistry, environment and ecology, clinical medicine, medicine and toxicology, and agricultural science.
In order to attract academically excellent international students, Lanzhou University is pleased to offer the President Scholarships for international students who desire to pursue Bachelor degree, Master degree and Doctoral degree studies at the Institution.
I. Places and standards of the scholarship
1. Places
Up to 100 scholarships are awarded annually, in principle, of which 20 are for the students pursuing doctoral degrees, 50 for those pursuing Master degrees, and 30 for those pursuing Bachelor degrees. If a certain quota is surplus, other projects can be used as a whole.
2. Standards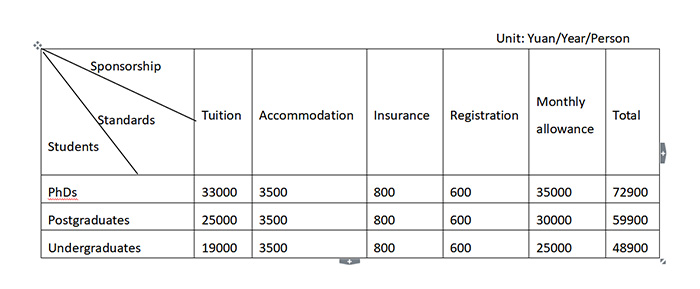 The scholarship covers tuition fee, accommodation fee, the living allowance, insurance fee, as well as registration fee. And the specific standards are as follows.

  PS: 1. The living allowance is normally tenable for ten months every year. During the period of Chinese language learning, the allowances for degree students will be provided according to specified value of undergraduates'.
  2. The scholarship is tenable for the standard duration of schooling. Students unable to finish their studies on time cannot get allowances during the extended period. Should students really need financial assistance for their research, they might apply for additional assistance.
II.Qualifications for Scholarship Applicant
1. Applicants are non-Chinese citizens, in good health, hold valid passports.
2. Applicants for Bachelor Degree shall hold a high-school degree and under the age of 25; applicants for Master degree shall hold a Bachelor degree and under the age of 35; applicants for Doctoral degree shall hold a Master degree and under the age of 40.
3. Applicants shall have excellent academic performance or research potential.
4. Applicants must not accept other scholarships.
5. Applicants for undergraduate programs on Chinese Language and Chinese International Education are supposed to reach the required Chinese language proficiency (HSK4 of minimum 180 or intermediate HSKK of minimum 50).
  III. Application Materials
  Applicants shall hand in or deliver the materials detailed below by the end of June. All of which should be submitted in duplicate.
  1. Online Application Form for International Students of Lanzhou University (Need to register and apply through online application service system: https://lzu.17gz.org/member/login.do ).
  2. Personal statement,including their reasons for application, financial situation, education background, work experience, study plan and special skills (minimum 1500 words, in Chinese or in English).
3. Copy of Foreigner's Physical Examination Form in English (Original form must be presented when you come to register). In view of the fact that the inspection result is valid for 6 months, the applicant shall determine the time for the medical examination..
  4. Notarized version of applicant's related diploma and degree certificate, graduating students are required to submit pre-graduation certificates (in Chinese or in English) .
5. Notarized version of Applicant's original academic transcripts ((in Chinese or in English).
  6.Recommendation letters: Applicants for postgraduate programs are supposed to submit two letters of recommendation in Chinese or in English from professors or associate professors.
  7. Research works: Materials to prove academic achievements and research capabilities such as published papers, award certificates, etc.
8. Proof of language proficiency (If has).
9. Copies of applicant's Valid passport.
Materials above should be put in order (two sets). Unclear or incomplete materials are not accepted. All materials, whether admitted or not, will not be returned.
Students shall complete their online registration and upload the required materials. (Website: http://lzu.17gz.org/member/login.do).
  IV. Deadline
The deadline of the online application is June 10, 2019.
V.Scholarship recipients shall register on time at the university. Those who are unable to register on time without permission from the institution will cease to be eligible for the scholarship, and their scholarships will be automatically canceled.
  VI. If recipients fail to reach the required Chinese language proficiency after one-year Chinese language learning, they have to submit an application for extension of Chinese learning. Scholarships cannot be provided during the extended period. However, it does NOT preclude the receipt of scholarships when they begin major study.
VII. Contacts:
Shan Wang, Fei Xie
  Tel: 0086-931-8914290
  E-mail: interadmission@lzu.edu.cn
  Website: http://sice.lzu.edu.cn;
Address: Room701, Student Activity Center, NO. 222 South Tianshui Road, Lanzhou University, Lanzhou, Gansu, P.R. China
Postcode: 730000
Attachment:

Major Catalogue.docx