Prospectus for President Scholarship
of International Students in Lanzhou University
In order to attract academically excellent international students, Lanzhou University is pleased to offer the President Scholarships for international students who desire to pursue Bachelor's, Master's and Doctor's degree studies at the Institution.
I. Eligibility
1. Applicants are non-Chinese citizens, in good health, hold valid passports, observe the laws of P.R. China, and comply with the rules and regulations of this University.
2. Applicants for Bachelor's Degree shall hold a high-school degree or its equivalent, and the age shall not be over 25; applicants for Master's Degree shall hold a Bachelor's Degree or its equivalent, and the age shall not be over 35; applicants for Doctoral Degree shall hold a Master's Degree or its equivalent, and the age shall not be over 40.
3. Applicants shall have excellent academic performance and/or research potential.
4. Applicants may not concurrently hold other scholarships offered by the Chinese government or other institutions.
5. Applicants for undergraduate programs on Chinese Language are supposed to reach the required Chinese language proficiency (HSK4 of minimum 180 or intermediate HSKK of minimum 50).
II. Number and value of the scholarship
1. Number
Up to 100 scholarships are awarded annually, of which 20 are for the students pursuing doctoral degrees, 50 for those pursuing Master's degrees, and 30 for those pursuing Bachelor's degrees.
2. Value
The scholarship covers tuition fees, registration fees, accommodation fees, insurance premiums, as well as basic living expenses. And the specific standards are as follows.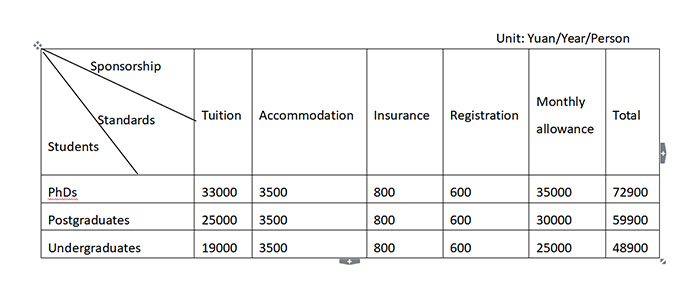 PS: 1. The living allowance is normally tenable for ten months every year. During the period of Chinese language learning, the allowances for degree students will be provided according to specified value of undergraduates' allowances.
  2. The scholarship is tenable for the standard duration of schooling. Students unable to finish their studies on time cannot get allowances during the extended period. Should students really need financial assistance for their research, they may apply for additional assistance.
  III. Documents
  Applicants shall hand in or deliver the documents detailed below by the end of June. All of which should be submitted in duplicate.
  1. Application Form for President Scholarship of International Students in Lanzhou University: Applicants shall complete and sign the application form with a photograph.
  2. Personal statement: Applicants are asked to prepare an essay describing their reasons for application, financial situation, education background, work experience, special skills, and study plan (minimum 1500 words) in either Chinese (taught in Chinese) or English (taught in English).
  3. Academic transcripts: Transcripts in languages other than Chinese or English must be attached with notarized Chinese or English translations.
  4. Notarized highest diploma (photocopy): Documents in languages other than Chinese or English must be attached with notarized Chinese or English translations. Prospective diploma winners shall submit official proof of student status by their current school.
  5. Recommendation letters: Applicants for postgraduate programs are supposed to submit two letters of recommendation in Chinese or English from professors or associate professors.
  6. Foreigners Physical Examination Form (photocopy): Those forms without the signature of the attending physician, the official stamp of the hospital or a photograph of the applicants are invalid. The applicants shall select the appropriate time to take physical examination, as the result is valid for only 6 months. They are asked to register with the university with the original copies.
  7. Evidence of language proficiency (HSK of minimum Band 4, IELTS of minimum 5.5, TOFEL of minimum 80, or GRE report).
  8. Valid passport (photocopy): Applicants are supposed to submit a photocopy of their passports valid for the duration of their stay in China.
  Notes: New students shall complete their online registration and upload the required documents. Among other things, current students shall submit a recommendation from their instructors or supervisors (Website: http://lzu.17gz.org/member/login.do).
  IV. Deadline
  The deadline of the online application is June 20, 2018.
  V. Terms and Conditions
  1. Scholarship recipients shall register on time at the university. Those unable to register on time without permission from the institution will cease to be eligible for the scholarship, and their scholarships will be automatically cancelled.
  2. The scholarships will be automatically cancelled after recipients suspend their studies, drop school or wind up their studies from the university.
  3. In the case of recipients failing to continue their studies due to illness or other personal reasons, their scholarships will be automatically cancelled.
  4. Recipients will be asked to attend the annual review of the scholarship. Those passing the review will be eligible to continue the next year's scholarship. Failure to pass the review may result in the cancellation or suspension of the scholarship.
  5. School of International Cultural Exchange may suspend allowances because of the recipients' poor daily performance.
  6. If recipients leave China for more than half a month for personal reasons or miss more than one third of the classes in a month, their allowances will be suspended.
  7. If recipients receive more than one academic warning or are subject to any administrative punishment from public security agencies, their scholarships will be cancelled.
  8. If the supervisors believe that the recipients are absent in scientific research or leave school or China without permission, their scholarships will be cancelled after a further confirmation from School of International Cultural Exchange.
  9. If recipients fail to reach the required Chinese language proficiency after one-year Chinese language learning, they have to submit an application for extension of Chinese learning. Scholarships cannot be provided during the extended period. However, it does NOT preclude the receipt of scholarships when they begin professional learning.
  VI. Attention
  Contacts: Wang Shan, Zheng Hongliang
  Tel: 0086-931-8912853, 0086-931-8915658
  Email: interadmission@lzu.edu.cn
  Fax: 0086-931-8912087
  Postcode: 730000
  Websites: http://sice.lzu.edu.cn; http://www.lzu.edu.cn
  Address: Room 908, Guanyun Building, 222 South Tianshui Road, Lanzhou, Gansu, China