President Yan Met with Delegation from South Korea
Edit Time: View:0
A delegation from South Korea, led by Mr. Kim Youngroo, Director of Bureau of the Daewon Foundation of South Korea, Professor Jin Zhenwu, Chinese Director of the Rainbow Confucius Institute, and Professor Lee Namsoo from Southern University of South Korea, together with other guests visited Lanzhou University on August 12. Yan Chunhua, academician of the Chinese Academy of Sciences and president of Lanzhou University, met with guests at the Yifu Science Building, and the two sides had full exchanges on enhancing understanding and strengthening cooperation in the future.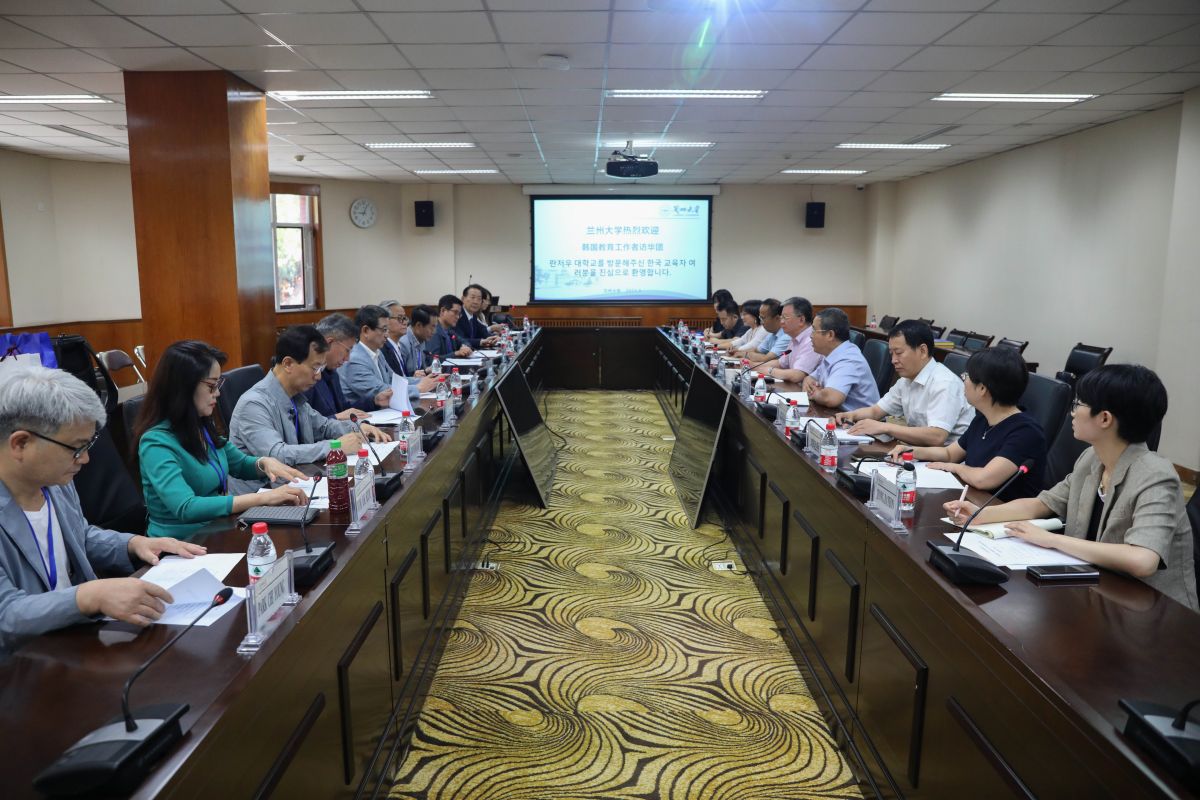 Yan Chunhua, on behalf of Lanzhou University, welcomed the visit of South Korean educators during the summer visit to China, and he gave an introduction to Lanzhou University from the aspects of international talent training, scientific research and exchanges and collaborations with South Korea. He said that the summer visit of Korean educators to China has brought Lanzhou University closer to the Korean education community, so that the members of the delegation can have a deeper understanding of Lanzhou University and even the western China. It is hoped that this meeting can become a milestone for cooperation between Lanzhou University and the Korean universities. The two sides agreed to deepen understanding, promote continuous contact, establish and strengthen cooperation in international students training and scientific research in the fields of public health and health sciences in the future, and contribute to cultural exchanges, educational cooperation and collaborative innovation between China and South Korea.
Jin Ronglu spoke highly of the achievements Lanzhou University has made. He said that the Bureau of the Daewon Foundation of Korea will actively promote the deepening of cooperation between the affiliated universities of the foundation and Lanzhou University in many research fields for win-win development.
Jin Zhenwu said that Lanzhou University is one of the top universities in northwest China, and the Rainbow Confucius Institute is the largest Confucius Institute in South Korea. It is hoped that the two sides will cooperate actively and jointly contribute to the development of international Chinese education and cultural exchanges between China and foreign countries. Zhao Zebin, Secretary of the Party Committee of the School of International Cultural Exchange, presided over the meeting. Teachers and students from School of International Cultural Exchange, School of Chinese Languages and Literatures and School of Philosophy and Social Sciences, and personnel from the International Office participated in the activities and exchanged views with members of the delegation on the construction of overseas institutions, student exchange, scientific research cooperation and other aspects.